Air Charter News: PrivateFly in the Media
PrivateFly's expert team, including CEO Adam Twidell, provides regular opinion and analysis on the private aviation market.

For all press enquiries or media assets please contact: marketing@privatefly.com
Media coverage : Press releases : About : PrivateFly social : Insights : Awards
Media Coverage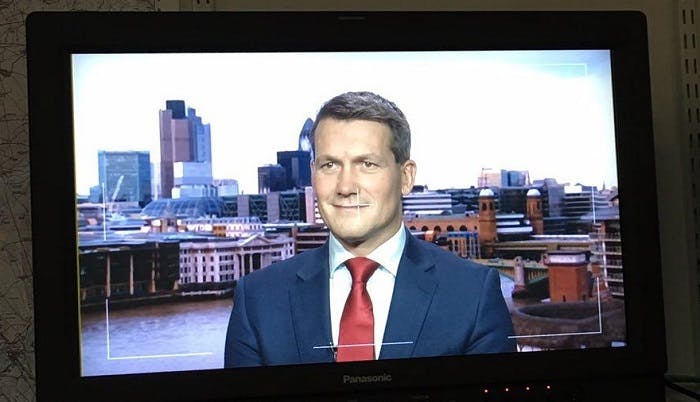 PrivateFly is regularly featured in the media, as an expert source of information and insight about the private jet industry. Here's just a selection of our recent media coverage:
The Times - 1 June 2019
Aviation Week - 20 May 2019
Private Jet Card Comparisons - 14 May 2019
City AM - 30 April 2019
AIN - 29 April 2019
CNN - 22 Mar 2019
The Independent - 21 Mar 2019
Financial Times - 26 Feb 2019
GQ - Feb 2019
Forbes - 25 Jan 2019
MarketWatch - 16 Jan 2019
Reuters - 20 Dec 2018
Business Insider - 12 Dec 2018
Corporate Jet Investor - 30 Nov 2018
City AM - 7 Nov 2018
San Francisco Chronicle - 26 Oct 2018
Aviation Week - 21 Sept 2018
Private Jet Card Comparisons - 5 Sept 2018
Fabric - August 2018
Crunchbase - 19 July 2018
The Times - 10 July 2018
Forbes - 29 June 2018
La Tribune Côte d'Azur - 28 June 2018
AFP - 8 June 2018
Latest Press Releases
PrivateFly appoints Gregg Slow in new role to head its US division - August 20, 2019
The charter booking platform accelerates 'next level' growth plans, with a new leadership role for the US region. More
PrivateFly offers fixed price cross country flights in the USA - 16 July 2019
For $29,000 clients can charter a Challenger 300 cross country, between New York City and California.
PrivateFly's new Q2 insights report reflects its growing global footprint - 12 July 2019
Latest report from PrivateFly reveals its top destinations worldwide were New York City, Washington DC & Nice Cote d'Azur between April and June.
More music festival goers are tuning into private aviation - 25 June 2019
PrivateFly reports 15% of all European flights in June & July are to music events.
New routes on the Legacy 600 added to summer City Pairs from PrivateFly - 4 June 2019
Following successful launch in April, the private jet company has added longer routes to its fixed price program.
PrivateFly launches fixed price summer private jet flights - 30 April 2019
New 'City Pairs' include flights between London and Ibiza, Palma, Nice, Paris, Milan and Geneva.
PrivateFly integrates with Skyjet, creating 'world-leading' digital platform for private charter - 4 April 2019
Directional Aviation's OneSky is now focusing its on-demand offering under the PrivateFly brand.
Book that window seat: The Top 10 Scenic Airports 2019 revealed - 22 March 2019
Travel fans and experts reveal their favourite airport landing views in PrivateFly's poll.
Relocations by private jet are taking off, says PrivateFly - 27 February 2019
The private jet booking service is reporting an increase in private flights for those moving abroad, with clients able to take their pets and valuables in the cabin.
London topped the private jet charts in 2018 - 4 February 2019
When it comes to Europe's private jet cities, London continued to top the charts in 2018, according to industry data and commentary from PrivateFly.
Challenging yet exciting times in 2019 for business aviation, predicts PrivateFly - 3 January 2019
Adam Twidell CEO of PrivateFly, offers eight industry predictions for 2019, as the company releases its annual trends report for 2018.
PrivateFly launches exclusive ski season flights between London & Geneva - 27 November 2018
For a guaranteed fixed price of €6000 groups can fly on-demand between London and Geneva in a Nextant 400XTi.
How to fly "back in time" and celebrate New Year Twice - 19 November 2018
PrivateFly offers the ultimate New Year's Eve private jet itinerary, allowing you to experience the start of 2019 twice, in both Sydney and LA.
Why private flyers are choosing sleep over champagne - 18 October 2018
According to PrivateFly's latest report, increasing numbers of private jet customers are choosing to sleep while they fly.
PrivateFly is acquired by Directional Aviation, a world-leading provider of digital on-demand private jet travel - 5 September 2018
Within the OneSky family, PrivateFly will join forces with on-demand broker Skyjet.
Forget the airport queues this summer with a private jet day trip - 14 August 2018
Carol Cork, marketing director at PrivateFly, talks about the latest private jet summer trend - for time-starved travellers to take a 'holiday in a day'.
PrivateFly listed second in Crunchbase's 50 successful companies with minimal funding - 24 July 2018
The private charter platform's successful growth strategy is highlighted by the business information giant, coming second to YouTube.
11am on Friday: The private jet hour - 19 July 2018
Research highlights that 525 private jets take off at 11am on Fridays in Europe PrivateFly gives five reasons why...
PrivateFly sponsors commemorative album to mark RAF centenary - 05 July 2018
With its strong military roots, the private charter platform is featured in '100 Years of the RAF' and will attend centenary flypast in London on 10 July.
Flying visits...a day in the life of a private flyer - 25 June 2018
1 in 10 PrivateFly flights are same day returns - a 40% increase on 2017.
How and where are private flyers taking off in 2018? - 8 May 2018
PrivateFly shares insights from its latest quarterly report, Private Jet Charter Trends (Q1 2018).
Bucket list landings: Travellers name their too 10 scenic airports 2018 - 10 April 2018
PrivateFly's 2018 poll sees Donegal ranked the world's most stunning runway.
PrivateFly's 10 most memorable flights - 22 March 2018
From the world's first bitcoin booking,to ten pets on one jet, PrivateFly looks back at a decade of flights.
Double celebration at PrivateFly as it celebrates 10 years in business. - 7 March 2018
As 2017 saw more growth than at any time since the financial crisis, PrivateFly forecasts five key predictions for the year ahead.
PrivateFly partners with Virtuoso to increase its B2B offering - 13 February 2018
As 2017 saw more growth than at any time since the financial crisis, PrivateFly forecasts five key predictions for the year ahead.
2018 Will See 'Millennial' Growth In The Private Jet Sector - 09 January 2018
As 2017 saw more growth than at any time since the financial crisis, PrivateFly forecasts five key predictions for the year ahead.
More PrivateFly Press Releases
About PrivateFly
PrivateFly is a leading global booking service for private charter flights, combining innovative, custom-built technology with a passionate team of highly-experienced aviation experts. PrivateFly is part of Directional Aviation's OneSky group of companies.
With thousands of aircraft in one global network, a live pricing platform, infinite routes worldwide, airports and security to negotiate, and safety records to evaluate; we know that speed matters. But we also know performance matters more.
PrivateFly Social
Read PrivateFly's private aviation blog with posts from CEO Adam Twidell and our other experts. And follow us on Twitter; Facebook; Instagram and LinkedIn
PrivateFly Quarterly Insights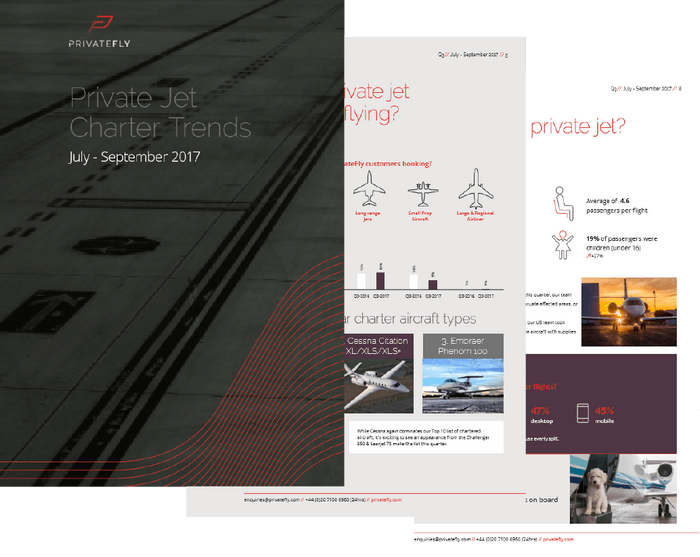 Every quarter PrivateFly publishes 'Private Jet Charter Trends', using insights from search and booking data.

This includes most popular destinations, aircraft, lead times and passenger demographics.

See latest insights & request full report